Bama, Terps, Texas, PSU, & Michigan pushing for this Rivals100 DE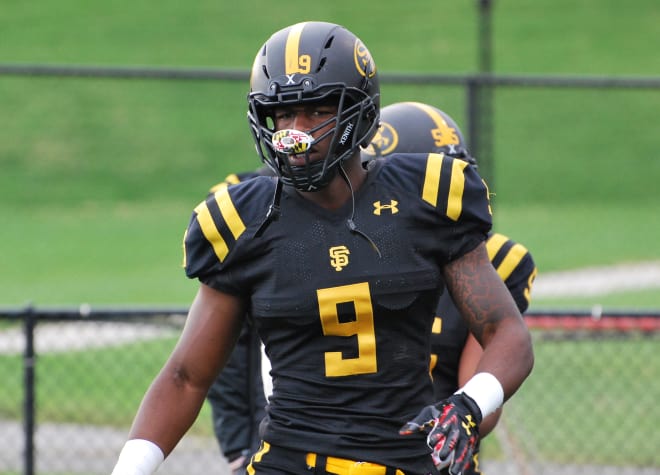 Rivals100 defensive end Eyabi Anoma kept a low profile this offseason but did manage to take a couple visits to schools like Maryland, Alabama, and Penn State. The Baltimore (Md.) St. Frances Academy star is slowly working through his recruitment and is making progress on figuring out where he will take official visits.
IN HIS OWN WORDS…
"I'm just keeping an open mind with all my schools," Anoma said. "I plan on taking all five official visits. I'm not sure when yet.
"Who wouldn't mind playing next to Uncle B (B'Ahmad Miller) at Maryland?" he said. "I loved playing next to that guy (last year at St. Frances) but I'm still keeping an open mind and reading all my options. Maryland is home for me and who doesn't like staying at home? There is no place like home.
"Penn State is going to be phenomenal this year," said Anoma. "For me, if I were to make a top five, Penn State would be in there.
"I hear a lot from Texas," he said. "They are a rebuilding program and they have a new coach. It's down south and I wouldn't mind playing in the heat. I've never been to Texas. I'm definitely going to take an official there.
"Michigan, all I have to say about the is 'Go Blue'," Anoma said. "I talked to Rashan Gary a bit after Paramus Catholic beat us up there last year."
"My Alabama visit stuck out a little bit," he said. "I've been hearing from coach Locksley and coach Lupoi a lot. I'll probably take an official visit to Alabama too. Those two coaches, coach Durkin from Maryland, and coach Harbaugh from Michigan are the coaches that have really been hitting me up the most throughout my recruitment."
RIVALS' REACTION
Anoma has kept his recruiting news very quiet for the last few months. Alabama, Maryland, Texas, Michigan, and Penn State are the clear top contenders for him with Alabama and Maryland a cut above the rest. Anoma will take official visits to Tuscaloosa (possibly for the LSU game), Austin, and probably Maryland even though he didn't come right out and say it. Maryland's win over the Longhorns is certainly big for the Terps but Anoma acknowledges that Texas is rebuilding and tough losses can happen. A decision will likely come after the season and possibly at the Under Armour Game in early January.