Las Vegas: Quinones dominates, talks high-level recruitment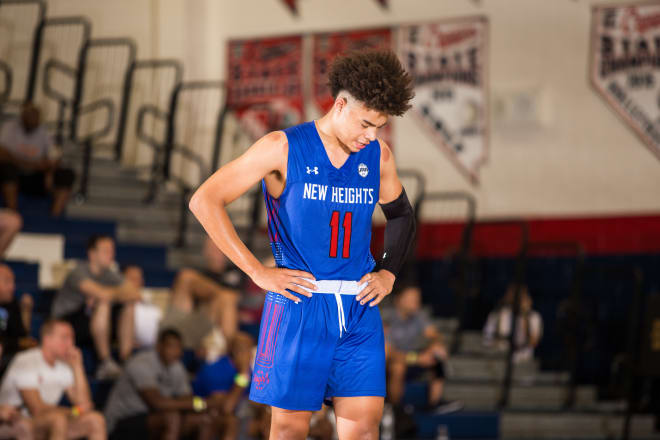 LAS VEGAS – In one of the best performances of the summer, Lester Quinones came out with a plan of attack. Competing against a trio of five-star prospects and with some of the most well-known names in coaching on hand, Quinones scored 37 points off of a variety of shots and finishes that only bolstered his standing as a national target.
Following his team's win, Quinones spoke about his mindset heading into the game.
"Today was a very big one for me," he said. "Both of those guys are great at what they do, so I had to play good in front of those coaches out there and win my match-up. In my mind, both of those guys are ranked No. 1 at their position so I was just trying to get that bump up in the rankings. I feel disrespected sometimes, so playing good in front of those coaches feels good."
Ohio State, Michigan, UCLA, Seton Hall, St. John's, UConn, Maryland and Pitt are just a few programs that have invested a lot of time into the recruitment of the top-65 wing.
IN HIS OWN WORDS
Michigan: "They have been contacting me pretty often of late. We are just building a good relationship and he (John Beilein) just tells me he is coming to see me and that I am a special player and to keep playing hard. He has just been saying that it is school tradition to go on a visit there to get that offer, so he is just waiting for me to go on a visit first."
Ohio State: "Coach (Ryan) Pedon has been texting me a lot. They have been coming to some of my games lately. They have begun to start recruiting me pretty hard and that I am his top priority."
Seton Hall: "That is a good school there and I have a good relationship with them. I am planning on taking an unofficial visit there next month, since it is close to home."
St. John's: "They are good, too. I have seen Coach (Chris) Mullin at a lot of my games and we have built a very good relationship with them. I am planning on taking an unofficial visit there next month, too."
UCLA: "I like their style of play. They like to get out in transition, shoot a lot of 3s, and that is just my type of game. That is a big one for me that is showing interest."
Maryland: "They are loving me, calling me, texting me and I think that they have been to all of my games this week. That is another one that I want to take an unofficial visit to, since it is so close to home."
UConn: "Every time I look over there, I see Coach Kimani (Young) and Coach (Dan) Hurley at all of my games. That is just great to see."
WHAT'S NEXT?
Days away from the completion of his travel ball career, Quinones is ready to get down to business for his recruitment.
"No visits yet, but I am going to sit down and schedule some after this week and try to get to all of the schools that are close to home and start planning on a number of others that aren't as close," he said.
Playing alongside five-star Precious Achiuwa on the travel circuit and with his high school team, the question was asked if the duo could play together in college.
"We have discussed it a couple of times. We feel like our games complement each other well and that if we could keep playing together at the next level, we can help each other out and get to where we want to reach," he said before commenting on when a commitment could occur. "It depends on what school I go to, but if I go back to St. Benedict's, we will probably make our decision late sometime next year."
RIVALS' REACTION
Quinones is one of the best shot makers with size in the 2019 class. He is tough, engaging and competitive and he can impact the game on both ends of the floor.
His recruitment remains wide open, as it has continued to expand by the day. Do not be shocked to see Michigan or UCLA jump in with an offer, with a commitment date being pushed back later into the winter months.