Veterans Classic details announced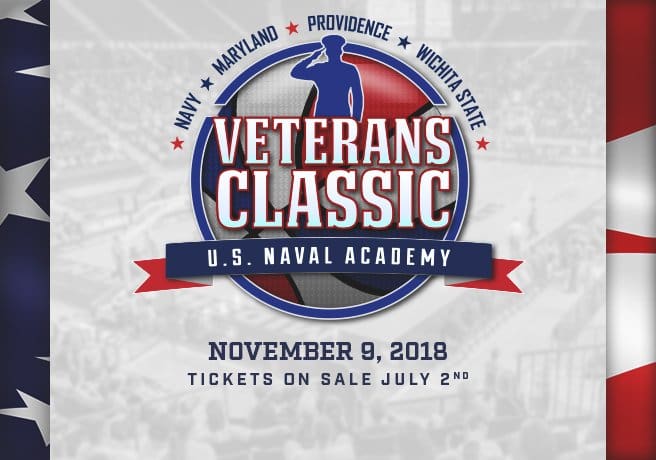 Maryland will face host Navy in the 2018 Veterans Classic which will be broadcast on CBS Sports Network, it was announced on Monday.
The fifth annual Veterans Classic will take place Friday, Nov. 9 at Alumni Hall in Annapolis, Md. and feature Maryland, Navy, Providence and Wichita State.
Providence and Wichita State are set to tip off at 6 p.m. ET with the Terps and Navy set to follow at 8:30 p.m. ET.
The upcoming game will mark the first time Navy and Maryland have played in men's basketball since a Len Bias-led Terps team defeated David Robinson and the Mids, 64-59, in the second round of the 1985 NCAA Tournament in Dayton, Ohio. It will also mark the first contest in the series to be played in Annapolis in 50 seasons (Feb. 12, 1969). The Terps hold a 30-27 edge in the series between the two Old Line State schools.
The Veterans Classic, honors our nation's veterans and showcases the U.S. Naval Academy. Each of the visiting teams immerse themselves in the inner workings of the U.S. Naval Academy through guided tours held on the day before the games with CBS Sports Network televising a 30-minute all-access show that provides a look from these experiences on HOOPS CONFIDENTIAL: VETERANS CLASSIC.
"It's an honor and a privilege to participate in the 2018 Veterans Classic," eighth-year Maryland head coach Mark Turgeon said in a statement. "This opportunity for our student-athletes to engage and visit with the midshipmen will be an invaluable experience. We are looking forward to expressing our sincere appreciation to the men and women of the United States Naval Academy for their service and all that they do to keep our country safe. Our University and men's basketball program is excited to face Navy in a regular season game in Annapolis."
Tickets will be available starting Monday, July 2, through the Navy Ticket Office at either 1-800-US4-NAVY or by clicking on the TICKETS tab in the masthead of NavySports.com. Reserved tickets for the doubleheader in the lower level of Alumni Hall are $75 and upper level general admission seats can be purchased for $50.